BANDAI NAMCO Entertainment Americadeveloper of TEKKENhas unveiled the calendar of events of the tournaments Masters and Challenger from TEKKEN World Tour 2023. In total there will be nine Master eventslarge-scale world tournaments, and five Challenger eventsregional competitions of the TEKKEN World Tour.
About the events Master, the Tour counts for the time being with the following: the Evo Japan 2023the CEO 2023 of Florida, the The MIXUP 2023 – Round 5 at Lyon, Punishment 2 at La Paz, Bolivia, Combo Breaker Chicago, Battle Arena Melbourne 13, FIGHTERS SHOWDOWN 2023 at DelhiIndia, and the event VS Fighting XI in the United Kingdom.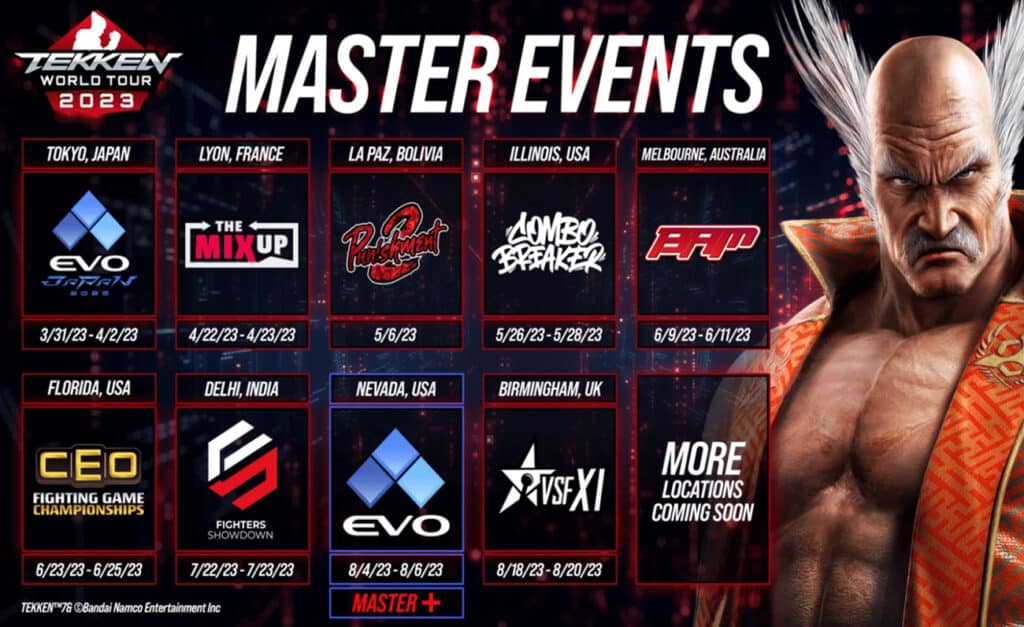 TEKKEN is still one of the FGC titles world's top level titles. Circuit points will be distributed among the following tournaments Masters and Challengerand the 33rd and 17th first classified get points respectively. In the case of the Master+points for the circuit will be awarded to the 49 best players. The top of the world rankings . will move on to the world finals from TEKKEN World Tour 2023.
As for the Challenger tournamentsevents will be held all over the world. Ivory Coast, Paradise Game Battle, Dubai, Slash N Dash Emirates ShowdownSweden, Headstomper 2023Malaysia, FV Major 2023 and Belgium, Brussels Challenge Major Edition 2023will host TEKKEN competitions.
BANDAI has also stated that more TEKKEN World Tour 2023 events will be announced before the World Finals. Although they have not highlighted which category they will be in.
The Dojo events of the TEKKEN World Tour will return in 2023. The Dojo system allows tournament organizers to to request that their offline event be recognized as a Dojo event.. If accepted, tour points will be awarded to the highest ranked participants.
This is the fifth year of BANDAI TEKKEN World Tour. Once again, the tour will travel around the world via various LAN events after its offline return in 2022. The TEKKEN World Tour 2023 prize pool has not yet been revealed.
The Best Online Bookmakers May 28 2023