Ever since ChatGPT was released, it feels like everything in the tech world has revolved around artificial intelligence, language models, and machine learning. The gaming industry is no exception. AI helps to achieve better image quality or to save resources when upscaling low resolutions. However, it can also help you with decisions such as which game you should play next. That's exactly why a Redditor developed a bot inspired by ChatGPT.
ChatGPT for Games: Using Reddit posts for game recommendations
Redditor MadRedditScientist shared a preview of his bot on the /r/gaming subreddit yesterday. Unlike ChatGPT, you can only ask one question and get an answer. Follow-up questions or discussions are not possible. His bot uses the data from posts and comments on the /r/shouldibuythisgame subreddit to generate its responses.
MadRedditScientiest is warning users that its bot is still in an early preview and may contain incorrect or outdated information. However, he is confident that these problems will soon be ironed out. You can try it yourself here.
Redditor's project is definitely very impressive, but you can also use ChatGPT for game recommendations. We compared the two and asked which 2D fighting game would be recommended for the Nintendo Switch.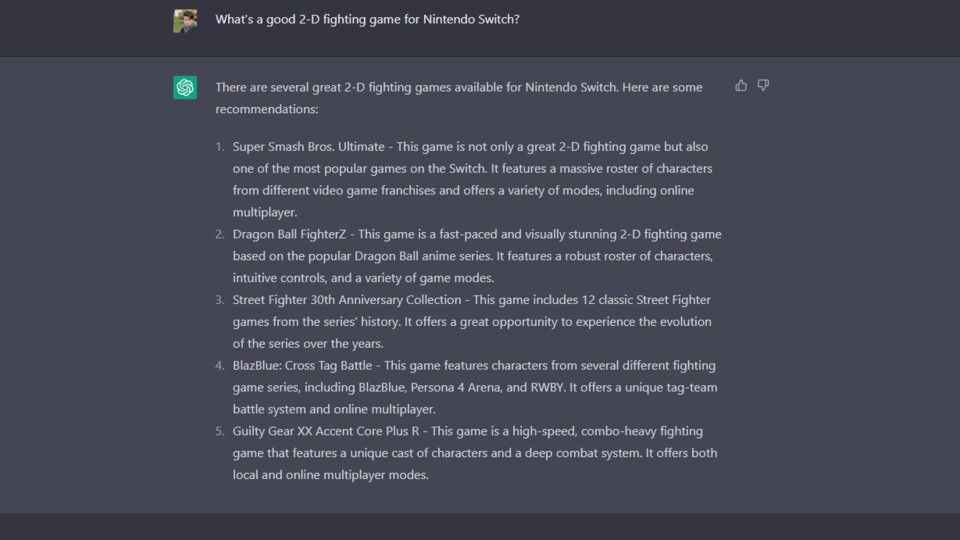 Not very surprising: Both ChatGPT and Redditor's bot recommend Super Smash Bros. Ultimate. Otherwise, Brawlhalla and Streets of Rage 4 are recommended by the DIY bot. Brawlhalla is a platform fighter like Smash, so this recommendation is fine, but Streets of Rage is not a fighting game but a beat-em-up.
Besides Smash, ChatGPT also recommends Dragonball FighterZ, Street Fighter 30th Anniversary Collection, Blazblue: Cross Tag Battle and Guilty Gear XX Accent Core Plus R. These are all very good 2D fighting games.
By the way, you can also extend your browser with ChatGPT. You can find out more about this here:
So the bot definitely has room for improvement, but it's still impressive what AI and machine learning can be used for and who knows: maybe in the future we'll just have to ask a bot to decide which game to play next want to play?
What do you think of the Redditor idea and have you ever used an AI for decision support? Also try MadRedditScientist's tool and share your experiences with it in the comments!
The Best Online Bookmakers December 01 2023