A relatively unknown and new brand of vacuum robots has a niche existence next to the top dogs like Roborock and Ecovacs, but that doesn't mean that it performs worse – on the contrary. Sometimes you can unearth real little treasures here.
I've been using the Zaco M1S for a few months now – and for the price it commands compared to a €1500 Roborock S8 Pro Ultra, he does a bomb job!
Click here for the Zaco M1S on Amazon

High-end vacuum robot with wiping function and cleaning station
In my home, robot vacuum cleaners aren't just pushed over a few crumbs, but pushed through its paces to its limits. Why? The "perpetrators" go by the names Lucy, Zoey, Sky and Blue. My wife and I are involved in animal welfare and have four dogs of our own.
Accordingly, a robot vacuum cleaner has to withstand a lot. He must:
vacuum daily
wipe daily and get rid of paw prints
cope with obstacles such as toys
manage his fur and hair so that it doesn't block him or get too entangled
What can the Zaco M1S do? Basically, it has almost everything you could currently want from a vacuum robot: It vacuums at 3200 Pascal, wipes, detects carpets, navigates using a LiDar sensor and camera and cleans and dries the mop automatically. You just have to empty the dust container by hand.
Get the Zaco M1S on Amazon

How good is the Zaco M1S robot vacuum cleaner in the test?
The first thing I noticed was that… Navigation and spatial recognition are great are. No matter whether it's a toy or a displaced dog bed, it always finds its position and avoids obstacles without any problems. It can easily clean our ground floor with just over 50m² of pure cleaning area with one battery charge.
The cleaning result is great: Crumbs, hair, paw prints – nothing to see anymore! He mops the floors with a damp cloth, but not "wet", so you can enter the room normally again shortly after cleaning without leaving any marks.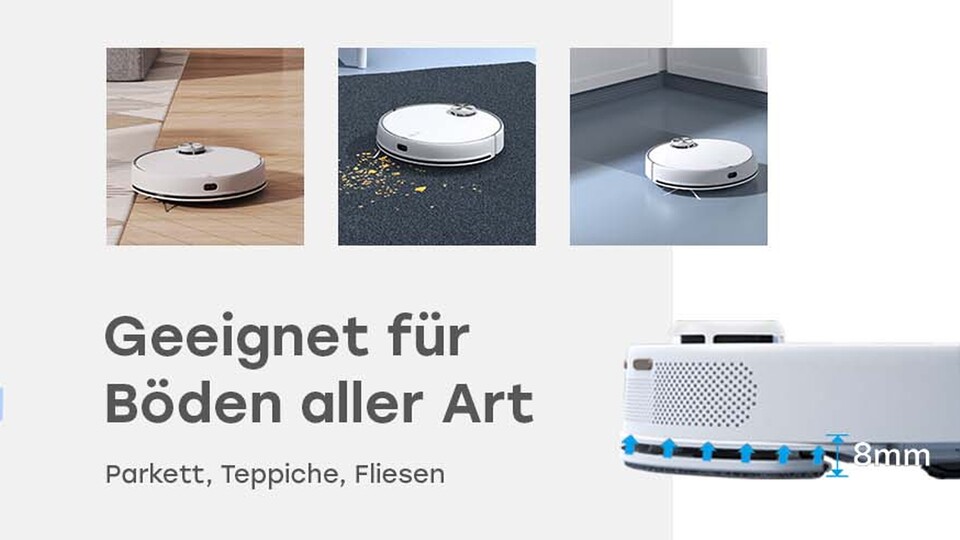 The station also works very well – it is also quite stylishly designed. The mop is really clean and dried well – Zaco promises 99.99% hygienic cleaning. I can confirm that there is absolutely no smell, even after weeks of use.
The app itself works very well and intuitively compared to others. I never really have any problems here, and the settings are sufficient and clear.
For my personal use there are only two small catches: Firstly, the dust container is too small for a household with four dogs – I have to empty it after every cleaning. On the other hand, our Sky's long hair gets caught in the brush roller. This isn't dramatic since it never blocks, but it's something that doesn't happen with double rollers.
Overall, however, I can summarize that the Zaco M1S cleans extremely well and scores particularly well in terms of price-performance. If you're not as crazy about animals as we are, then you're in good hands with him. The clean floors are always a joy!
It only costs €699 on Amazon. Compared to the Roborock S8 Pro Ultra, it's almost a bargain – that's not even half as much!
Click here for the Wipe King on Amazon




Some links included on this page are affiliate links. When purchasing via these links, GameStar receives a small commission depending on the provider without affecting the price.


More info.

The Best Online Bookmakers December 05 2023