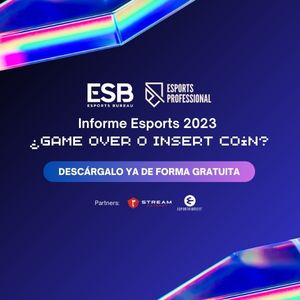 As announced last week, today, September 27th, on Ca l'Alier, Barcelona, the report "Esports in 2023: Game Over or Insert Coin?", prepared by Esports Bureau y Esports Professional and Esportainment and Stream Hatchet also collaborated on the report as a source of industry audience data.
At an event in which Barcelona Sports Hubpromoted by the Ajuntament de Barcelona and led by INDESCAT have acted as hosts, a brief review of the report and a round table to discuss about it. The report is now available at the following links or by accessing the Esports Bureau and Esports Professional websites.
The report addresses the current state of the professional ecosystem from a reflective point of view. First and foremost it talks and reasons about the inflection point that esports are experiencing in 2023: a drop in audiences in the main competitions, not in esports in general, a global economic situation that also affects the sector and a revenue generation model that is now beginning to show signs of exhaustion.
Before this situation, the report reviews what has happened in the last 10 years, talking about what has failed or is no longer working and needs to be corrected (the sponsorship model, the influence of the content creation model, the incorrect management of expectations, and an exorbitant economic model) but of course, it also highlights the levers that the industry needs to maintain and use more; face-to-face events, community and technological capabilities.
The report goes on to outline How esports should evolve on the new entertainment map.talking both about how the content and the communication channel should work, to then talk about two fundamental supports that must help esports in their evolution: blockchain and artificial intelligence. They are not the panacea to all problems, but they are certainly key to the future.
Finally, the report talks about the future job opportunities in esports and how they will contribute to the economy, making a sincere and realistic reflection of the options at the Spanish-speaking level.
In short, a report by and for the sector, which aims to bring a point of reflection, to move away from the pessimistic tone that is being breathed in the industry and to look to the future, which exists and is very bright.We have everything we have learned, the accumulated experience, the flexibility and transversality that has characterized the industry and the knowledge that the future of our industry depends entirely on us, because we have all the cards in our hands to give new impetus to an industry that is far from dead.
Game Over or Insert Coin?
Clearly a New Game +, where we take everything we know, all our weapons, experience, skins and so on, and go back down the road with knowledge.
The Best Online Bookmakers November 29 2023