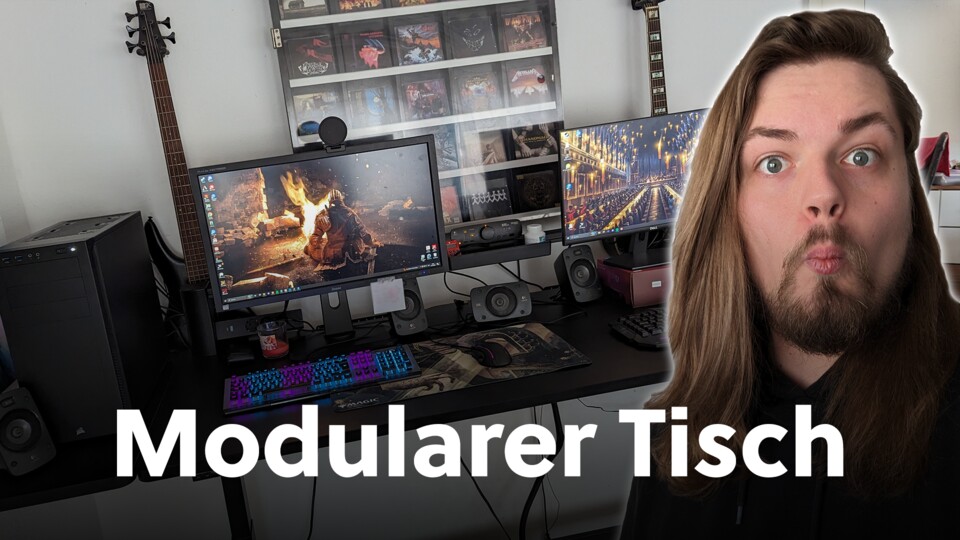 You can expand this table more and more.
So far I've only had a height-adjustable desk in local offices and I was pretty excited about it back then. Now I have a table like this in my home office – and I'm blown away.
This is not just because I can now work and play games standing up if I want. Corsair's modular desk Platform:6 Elevate offers enough other functions that pick me up.
Thanks to the additional modules in particular, I have turned the table into a gaming area for two and I think that it is certainly suitable for many of you – whether alone or in pairs.
My ugly little problem
Until recently, I had a rather small, but ugly and ever-present problem: my living room doesn't have enough space to put two high-quality, good-looking tables next to each other.
But why two desks? I like to play various (online) games with my girlfriend – mainly on the PC. But the fact is that games with local co-op mode are rare on the PC. That's why I needed a small desk where my better half could sit and play on her own PC.
So I got a small table from the bedroom and put it next to my desk. But the little thing isn't pretty, nor does it really offer a lot of space to play comfortably.
It felt more like a Lan party in the 90s: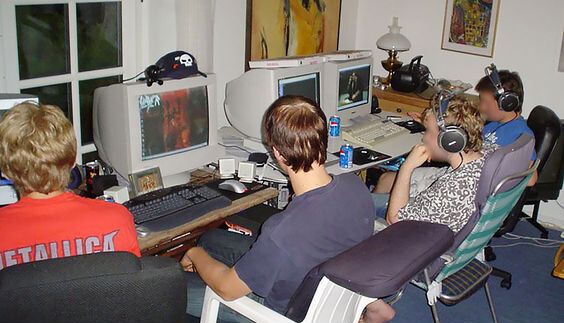 This is what it looked like in the 90s when several people met. to play PC together – the infamous Lan parties. (Image: Imgur – Coindrop)
And there is another problem: At the moment my girlfriend is playing on an old computer of mine when she is with me. But it doesn't have a housing and is therefore on the table.
The result: tangled cables and not enough space to really make yourself comfortable.
Since then we have come to terms with it because there was no other way – until now.
The solution in the form of the Corsair Platform:6
I'll be honest with you: When I started testing the table, I didn't realize its great potential.
I was more of the opinion that we could forget about playing next to each other for now. My plan was first to set up the Platform:6 and then see where we could put my girlfriend's gaming place.
Because another table definitely won't fit next to this 1.80 meter wide table – at least not the 80 centimeter wide table that we used before. In total I only have 2.58 meters from the wall to the door.
But the solution was simpler than expected: The Corsair Platform:6 is a modular desk that you can expand or customize with different parts as needed. In my case, I expanded the table by two 30 centimeter wide surfaces.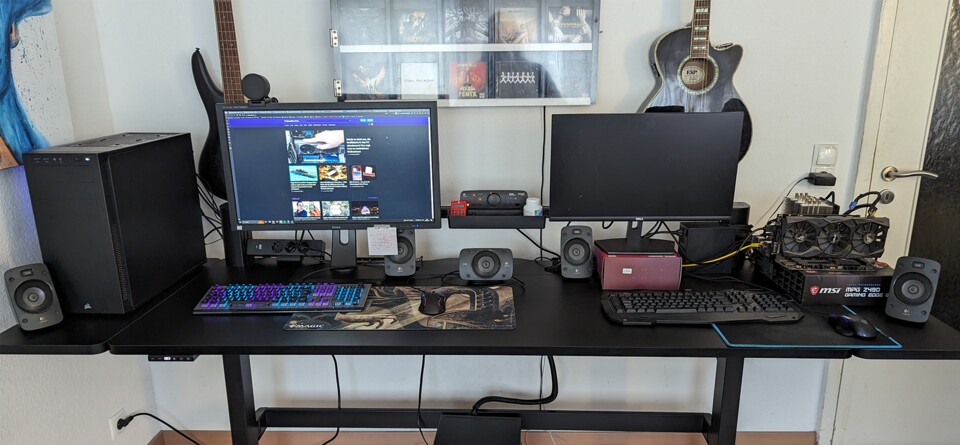 My (almost) finished setup with two places to play… oh, and work. In the future I'll have to see how I can fit another screen in there… it'll be okay.
Now it is 2.40 meters wide and my girlfriend and I both have enough space to sit comfortably at a table.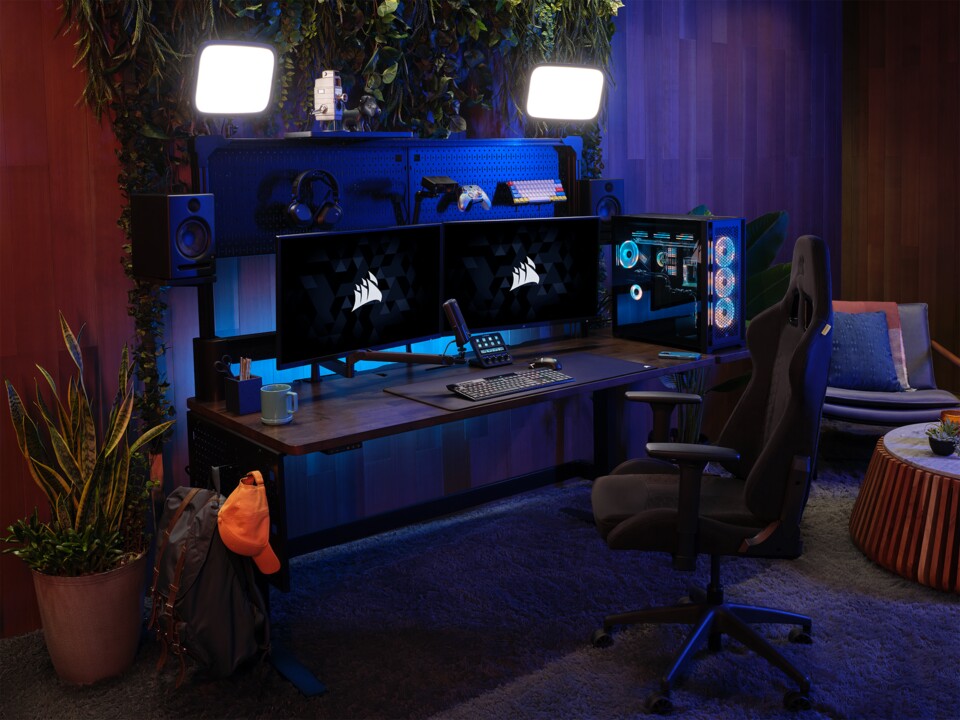 Your table could look something like this. You can only use the grid plates with hooks for hanging peripheral devices, for example, on the back of the table with the Creators Edition. (Image: Corsair)
The Platform:6 under the microscope
Construction & processing
✅ The table makes a very high-quality impression and is mostly made of steel. The table top is made of either black laminate or rubberwood with a dark walnut stain.
I was able to test the black version.
⛔ Unfortunately I have to say that you can really see every fingerprint, every crumb and every hair on the laminate. A fact that I will counteract with stylish mouse pads.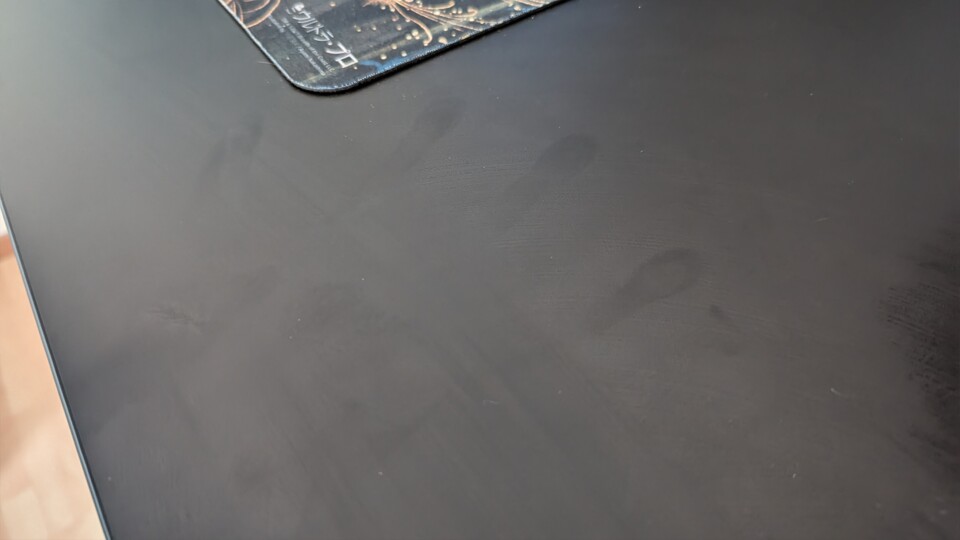 Just put your hand on the table and there's a print. Without a rag it will remain in place for the time being. A pity.
In order to finish the assembly quickly, I would recommend that you do it with two people. I didn't do that and it took me several hours.
To be fair, I have to say that my space in the apartment is quite limited and I had to play a kind of desperate Tetris in the bedroom with the old tables.
Height adjustability
✅ As mentioned above, Corsair's first table is optionally height-adjustable. Two heights can be saved. The table is then extended to the saved height at the push of a button.
There is a motor on each side and the table moves to the desired position without much noise.
⛔ However, there is also a small disadvantage: sometimes the control panel for the height adjustment reacts incorrectly. So sometimes I press the up arrow and the table moves down.
It also happened that I wanted to set the table to the preset position 1 (i.e. down) and the table then moved up a few centimeters, even though the buttons for the profiles are not directly next to the arrow keys.
However, after waiting a short time and pressing it again, the problem is solved.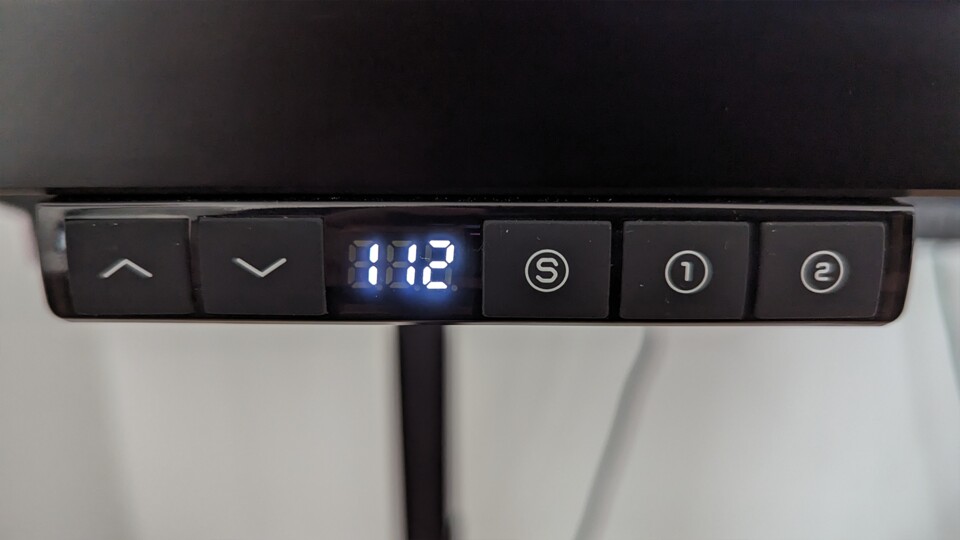 Not always precise: the module sometimes reacts in opposite ways when you press a button. Sausage finger alert!
Only optionally height adjustable? That's right, because the Platform:6 comes in three different basic versions and two color variants:
Standard: Not height adjustable (only in black)
Elevate: Height adjustable (black or dark walnut)
Creator Edition: Height adjustable with Elgato Multiframe (Dark Walnut only)








From left to right: Corsair Platform:6 Standard, Elevate and Creator Edition. (Image: Corsair)
Module and rail system
✅ I was particularly impressed by the rail systemwhich is used to assemble various things such as small baskets and containers or modular extensions such as mesh panels or additional work surfaces.
You will find this system both in the frame above the work surface and on the sides. This way you can expand your table with even more pieces. If necessary, you can leave some parts loose in the rails so that you can pull them along the rails, such as the screens or containers.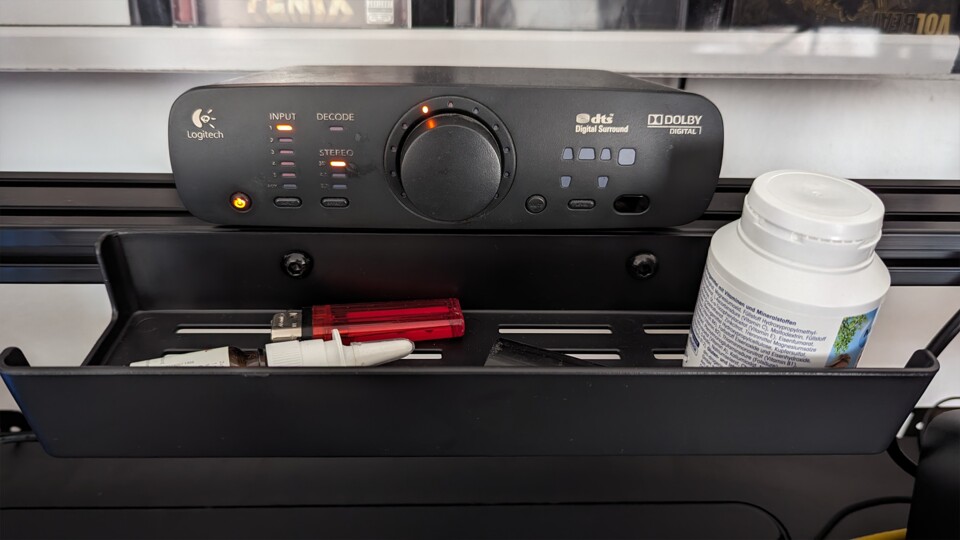 You can attach these small containers to the rails or mesh panels to provide more storage space.
✅ As a modular table The Corsair Platform:6 Elevate also offers some options for customizing the table. You can buy additional parts on the Corsair website.
⛔ But that also costs you a lot. For example, if I were to reorder the Elgato Multiframe, it would cost another 340 euros.
Other functions
In addition, the Platform:6 (in my case the Elevate model) offers a number of features that I would like to briefly list here:
Cable duct under the table
Dual monitor mount
Socket strips for mounting on, on or under the table (also on the rail system)
Accessories for cable management, for example smaller channels
Adapter for Elgato accessories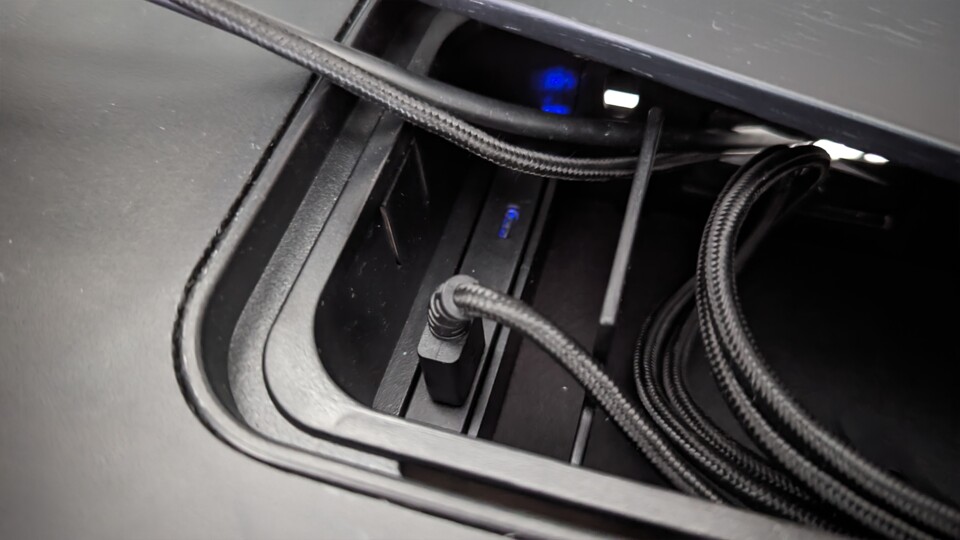 In the middle of the work surface, cables can be placed in the cable channel under the table. USB-A and USB-C cables can also be plugged in and supplied with power here.
Editorial conclusion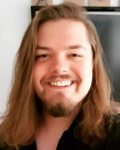 Jan Stahnke
The Platform:6 from Corsair is a high-quality table that offers plenty of options for customization and customization. I turned it into a gaming setup for two, but of course you can design it however you want.
Anyone who likes to set up their workplace down to the smallest detail will surely have fun with the Platform:6.
The different versions also ensure that you can save a little when buying, as long as you forego certain things such as height adjustability or the Elgato Multiframe.
I would only recommend the black color variant if you really want to save something or if your table is always completely covered anyway, because the clearly visible stains after a very short test phase are already bothering me.
Nevertheless, if you want to spend the not-too-small thaler of 1,559 euros for the Elevate version, you probably won't be disappointed.
Have you ever tried a height-adjustable table? What do you think of the Corsair Platform:6's module system? Feel free to write it to us in the comments!
The Best Online Bookmakers December 04 2023