I was an Apple Watch wearer from the very beginning – well, almost. About four months after the release, I got my first smartwatch from Apple. At this time the watch could not track any sleep. The feature, including sensors, only came with a later generation and watchOS updates.
Although I've had a smart watch on my wrist for many years, it has never occurred to me to monitor my sleep.
Out of curiosity, I did exactly that with the Apple Watch and Samsung Watch and asked the sleep researcher Dr. Albrecht Vorster was asked about it. So much in advance: the result reassured me personally, but in general it frightened me.
Track sleep with the Apple Watch Series 7 and Samsung Watch 5
Let's first take a look at the two smartwatches from prominent representatives.
Both watches from the manufacturers state that they have the following health functions for the sleeping area on board:
Sleep phase monitoring: The Apple and Samsung watches show me a list (and a chart) of the awake, REM, light sleep and deep sleep phases.
Measurement of blood oxygen: The blood oxygen level, also known as the arterial partial pressure of oxygen (PaO2), provides information about the oxygen content in the arterial blood. It is an important parameter for evaluating respiratory function and gas exchange in the lungs. Samsung's Health app states that blood oxygen monitoring is for fitness and wellness purposes only.
Measurement of heart rate: Heart rate during sleep is an important parameter that provides information about heart health and sleep status. During sleep, the body goes through the above sleep cycles. Heart rate can change during these sleep cycles.
The smart watch from Samsung also promises to record snoringwhich the sleep researcher will discuss later.
I had both watches monitor my sleep for around a month so that I could compare the values. However, there are no significant differences.
Both the Apple Watch Series 7 and the Watch 5 Pro from Samsung want to give me »exact« information about which sleep phases I slept through the night. In the respective app I receive an evaluation of the recorded night: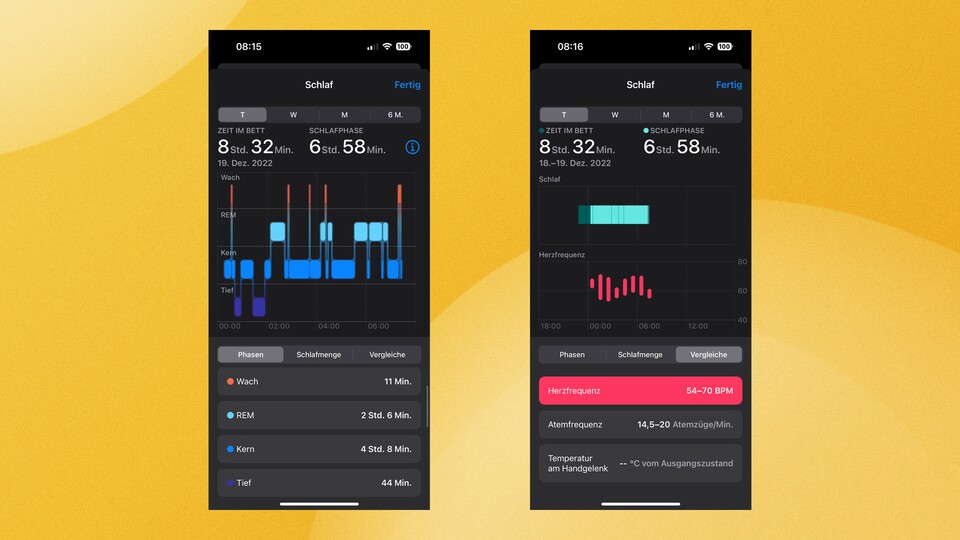 Exemplary evaluation of the Apple Watch Series 7.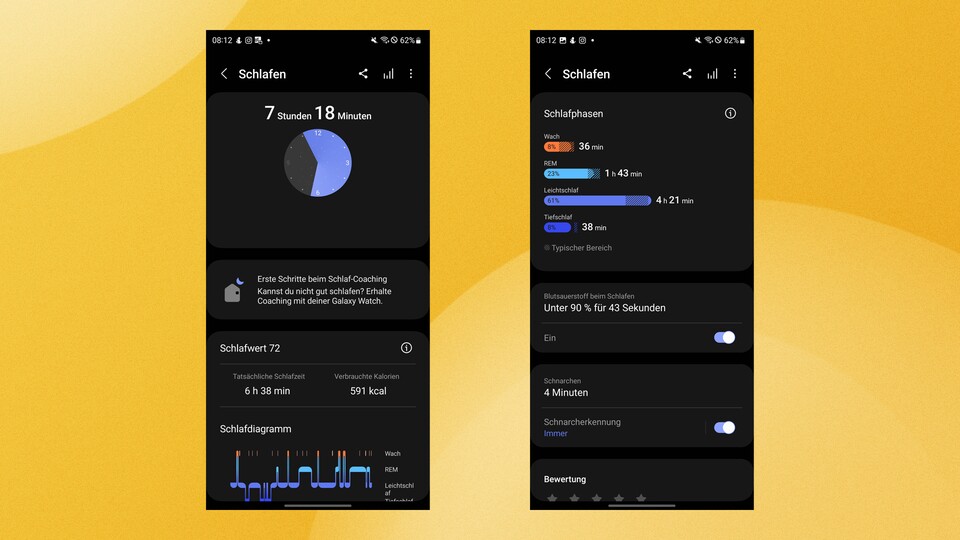 Exemplary evaluation of the Samsung Watch 5 Pro.
However, what worried me when evaluating the data was the average hours of sleep over the two months.
In one month it was just under 7 hours, the following month around 7.1 hours of sleep. "Isn't that too little?".
This is where the first problem with such gadgets, including tracking, became apparent to me: depending on the person, you are increasingly concerned – sometimes unfounded, as will be shown later.
In general, as a layman, I could not do much with the data that both watches spat out to me. Although both apps offer further information about the individual values, I can neither find any clues as to how exactly they are measured, nor whether they are "good" or "bad" for me.
For this reason, I sought professional advice.
That says Dr. Albrecht Vorster on sleep monitoring using smartwatches
dr Albrecht Vorster
dr Vorster was born in Cologne in 1985. He completed his studies in biology and philosophy at the University of Friborg and the Université de La Reunion.
He wrote his thesis at the Center for Sleep and Consciousness at the University of Wisconsin, Madison. He did his doctorate on memory formation during sleep in the sea snail Aplysia at the University of Tübingen.
Currently dr. Head of the Swiss Sleep House Bern at the University Hospital Inselspital Bern. There he focuses on researching and improving the sleep of hospital patients and athletes. In 2020 he developed the 7Sleepers app, for which he is responsible.
You can find more information on the website: why-wir-schlafen.de
My first question to Dr. Albrecht Vorster: Can Smartwatches Promote Our Sleep?
"Yes and no. Tracking with the help of such gadgets can lead you to deal with your own sleep behavior first. But they can also lead to overvaluing sleep or even developing a false anxiety about sleep.
Measures can be taken with such watches to sleep more, yes, but it's actually more about increasing quality than duration.
Finally, we should focus on improving our behavior towards sleep, i.e.: regular bedtimes, getting up when lying awake, less alcohol, more exercise. Even evening rituals like reading a book promote sleep.«
I tracked my sleep for two months. The values ​​from the sleep phases don't mean much to me as a layman. How meaningful is the data collected on a smartwatch like the Apple Watch or Samsung Watch?
»Little significance. It's simply not a comparison to the sleep data from a laboratory. Sleep stages are defined based on brain activity. I can't measure brainwaves on my wrist. The wrist is simply the wrong place on the body to measure such values, including oxygen saturation.«
At this point, the sleep researcher threw out an obvious comparison.
»Let's compare it to taking a temperature. Neither of us would ever think of putting the clinical thermometer in the palm of our hand and even believing the displayed values.«
dr Vorster continues to focus on blood oxygen saturation:
»We see a similar problem with oxygen saturation. Wearables measure the values ​​on the wrist. Infrared light is guided from the back of the smartwatch through the skin into the tissue. The light is then reflected off the red blood cells.
However, the measurements are not nearly as reliable as pulse oximeters on the finger, since the fingers have much better blood circulation, and the watch on the wrist constantly slips if it is not very tight.
Results may also vary due to factors such as skin pigmentation. Dark-skinned people are therefore at a disadvantage. Incidentally, the majority of these wearables are tested on young, white men.
A much more reliable measurement is therefore carried out on the finger. But only a few want to wear such gadgets on their fingers.
With the prominent Oura Ring we are getting closer to the point. However, this product also has its weaknesses. The sample rate is just too low.
The Circul Ring from Bodimetrics is much better with a 100 Hertz sampling rate. This wearable is a bit chunkier and the battery only lasts for one night.«
What is the oxygen saturation of such a gadget supposed to tell me in general? Can I at least use it to detect any diseases in myself, or perceive signals?
"A normal blood oxygen level is usually between 95 percent and 100 percent. If blood oxygen levels frequently fall by more than 3 percent during sleep, this can indicate breathing pauses, usually in connection with snoring. This is called sleep apnea. However, less than 5 pauses in breathing per hour are still considered normal.
In order to know exactly where the problem lies, additional sensors would have to be attached to the body. Wearables therefore usually do not replace laboratory diagnostics.«
I have activated a snoring detection with my Samsung watch, which is supposed to detect my snoring by means of audio. How well does this work and can it be used to determine a warning signal?
»In that case, the sound isn't necessarily meaningful. There are actually "healthy" snorers, and it takes more to diagnose diseases such as sleep apnea, for example measuring blood oxygen saturation. In addition, our movements and heart rate during sleep and the number of wake-up reactions are important factors.«
I summarize: When it comes to sleep tracking, can I throw my two watches in the bin?
»No not that. Because movements are tracked very reliably by smartwatches today. Be it walking, jogging or just sleeping. Why don't these watches give me an evaluation of movements per minute? On the basis of this one could determine a restless night and conclude on a restless sleep. The Apple Watch does that to some extent.«
What else do smartwatches need to do better?
»They are currently a black box. Nobody knows how the clocks get the data they spit out to us. Of course, the manufacturers will never tell us that either, logically. But as a sleep researcher, I lack the raw data that I can export to an Excel spreadsheet, for example, in order to compare them adequately. Such a function does not exist and perhaps never will.«
I still have one concern. Based on my data, I was able to determine that I slept an average of 7 hours over the two months. Is that way too little?
»That brings us back to the general problem of these trackers. The clock cannot tell you if 7 hours is enough for you. That just differs from person to person. Did you feel bad, exhausted or stressed during this time?«
Neither nor.
»Even. For some people, 6 hours of sleep a day is enough, while others are still exhausted after 8 hours. If you haven't experienced any physical or mental problems during these periods, there's no need to worry.«
Conclusion: I could take that with me
My little experiment may have gone differently than I initially thought, but personally I see it as a success.
The conversation with Dr. Albrecht Vorster was very insightful and extremely interesting. During the two months of recording, I noticed for myself how secretly worries about my own sleep plagued me.
However, these concerns have now been replaced by new concerns. Many users could take the output values ​​at face value – after all, I have to a certain extent.
On the other hand, the manufacturers deliver exactly what interested parties are looking for: health functions. Even cheap models for 30 euros offer supposed functions for sleep tracking.
What have I learned from this? A sentence came to my mind in a conversation with Dr. Albrecht Vorster in particular, namely improving my sleep through other influences and not through smart gadgets.
Like me, have you also worn the Apple Watch or other wearables to sleep? How did you deal with the data that was shown to you? Have you already tried alternatives like the Oura or Circul Ring? What actions have you taken to improve your daily sleep? Feel free to share them below in the comments!
The Best Online Bookmakers September 26 2023