As expected, given that some stores already had the product on the shelf, DJI has officially announced the new Mini 3 compact drone in a "non-Pro" version. The new flying "camera" is only similar in design to the Mini 3 Pro, whereas its capabilities and functions are quite different otherwise. Thus, the Mini 3 is more of a minor upgrade for those who have the Mini 2 already, and is no cheaper alternative to the Mini 3 Pro, giving up some capabilities.
DJI Mini 3 ditches proximity sensors
The DJI Mini 3, like the Mini 2, offers a maximum shooting resolution of 4K at 30 frames per second. What's new, however, is the photo sensor, which is more powerful and incorporates native dual ISO. So in low light, images will be captured at high quality. Another new feature compared to the Mini 2 is "HDR" shooting, but not in HDR format, but with bright and shadow areas equalised, as with smartphone photos.
Because it doesn't include proximity sensors, the drone can't avoid obstacles like the Mini 3 Pro can, and this means that the ActiveTrack auto tracking features are also absent on this model. The only sensor present is the one at the bottom, which assists the drone when landing.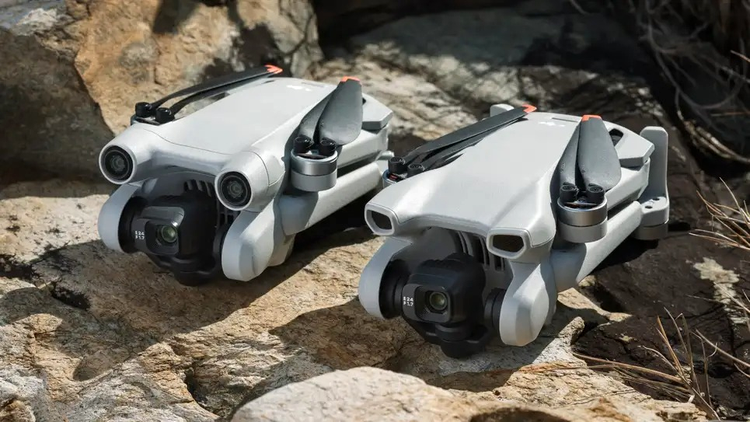 As a DJI Mini model, the drone weighs less than 249 grams with battery, which means it can be used in more situations than a large drone. Some countries don't require a permit for such small drones, but in Romania a permit is required for any type of camera drone. Although it's illegal in most countries to fly a drone without seeing it directly, DJI promises real-time video up to 10km away, and a range of up to 38 minutes with a standard battery, or 51 minutes with an extended battery (only available in the US), which brings the drone's weight to over 249 grams.
Like the DJI Min 3 Pro, the "standard" Mini 3 also offers the ability to turn the camera 90 degrees for photos and portrait mode shooting for social media posts. Level 3 wind resistance will also provide stabilisation up to 38 km/h wind speed.
The price is significantly lower than the Pro model
The DJI Mini 3 launches at a starting price of €489 for the version without accessories, i.e. just the drone. This package is for those who already have a remote control. Those who want a package with a remote control without a screen, which connects to their smartphone, will have to spend €579, while the Fly More package with the same remote control costs €768, integrating two extra batteries, propeller replacement sets, a charger for three batteries and a carrying case. Finally, the variant with DJI-RC, the remote control with integrated screen, starts at €749 and goes up to €938 for the Fly More package.