Anyone who likes to cook, bake, deep-fry, create, roast, chop, grind, cut, stir or just like to eat will be delighted with a food processor. Many star chefs swear by itmy fiancée and I have one and thousands of households as well: We're talking about food processors. But it doesn't always have to be just the Thermomix from Vorwerk. The Kenwood Cooking Chef is lesser known but a real gourmet contraption – and cheaper!
Click here for the Kenwood Cooking Chef at MediaMarkt

Vorwerk's Thermomix faces competition: Kenwood Cooking Chef
Cooking and baking are not only a necessity for many people, but also a hobby and an affair of the heart. Trying out new recipes and trying your hand at cooking sophisticated dishes can become a real adventure. The Kenwood Cooking Chef XL food processor with cooking function is the perfect companion for everyone who want to take their culinary skills to the next level. The Kenwood can really do a lot – and sometimes even more than the Thermomix!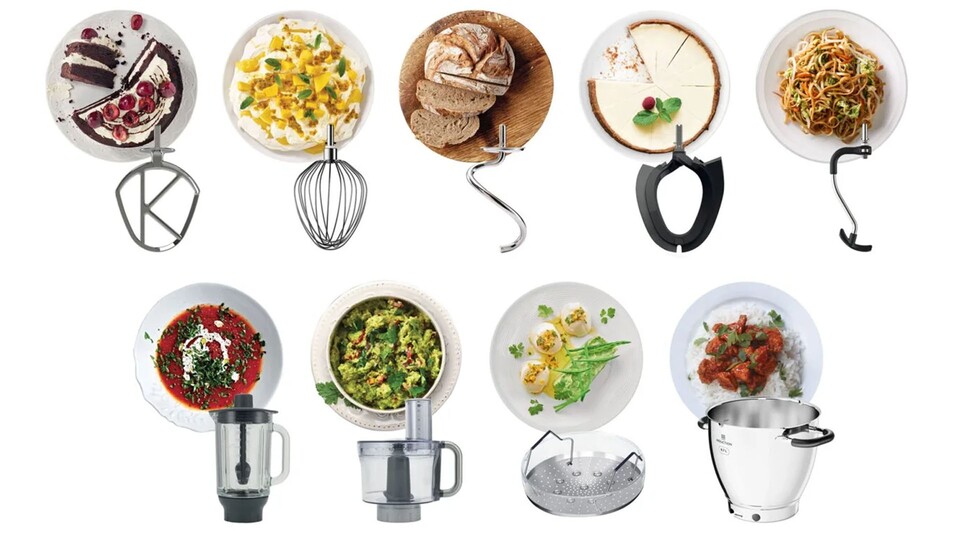 One of the really special features of the Kenwood Cooking Chef stand mixer is its cooking function integrated induction plate. Unlike conventional induction cookers, this allows you to set temperatures to the exact degree. This is perfect for heat-sensitive ingredients such as searing meat or caramelizing.
Whether steamed seafood, spicy curries or jam – the Kenwood Cooking Chef food processor reacts incredibly quickly to changes in heat and is ahead of every stove. Even meat can be seared crispy or chips fried. Temperatures can be on a scale of 20 °C to 180 °C in increments of one precisely defined, which allows maximum freedom and flexibility in the preparation of dishes. For comparison: The Thermomix only reaches a maximum of 160 degrees.
get the Kenwood Cooking Chef for just €1149.99

The food processor that even star chefs use
The Kenwood features 13 preset programs, home cooks make it easier to prepare dishes ranging from dough, soups or sauces to roasts. The free Kenwood app provides you with new recipe inspiration and offers comprehensive instructions for preparation. The connect function gives you access to hundreds of exciting recipes. The machine adopts the settings automatically and guides you step by step. The operation is a piece of cake even for the inexperienced among you.
But in addition to baking, cooking is also a real asset. When it comes to baking, the pros among you know that the precise dosing of the ingredients is crucial for the success of dishes. That's why the Kenwood comes with one high precision balance for the 6.7 liter mixing bowl. Speaking of stirring: Thanks to the 1500 watt motor, it can Knead dough like no other – and here, too, it trumps Vorwerk's masterpiece.
The Kenwood Cooking Chef XL is currently €250 reduced at MediaMarkt for just €1149.99. Still a lot of money, but also still cheaper than the Thermomix TM6 – and available!
Grab the gourmet food processor on sale

The Best Online Bookmakers June 07 2023